这是义安理工学院与公益机构HCSA社区服务联手推出的Gift4Good计划。义安理工和企业伙伴一同筛选学生的设计作品供售卖,之后再由学生指导HCSA受惠单亲母亲如何根据设计制作皮革品,售卖部分所得归单亲母亲。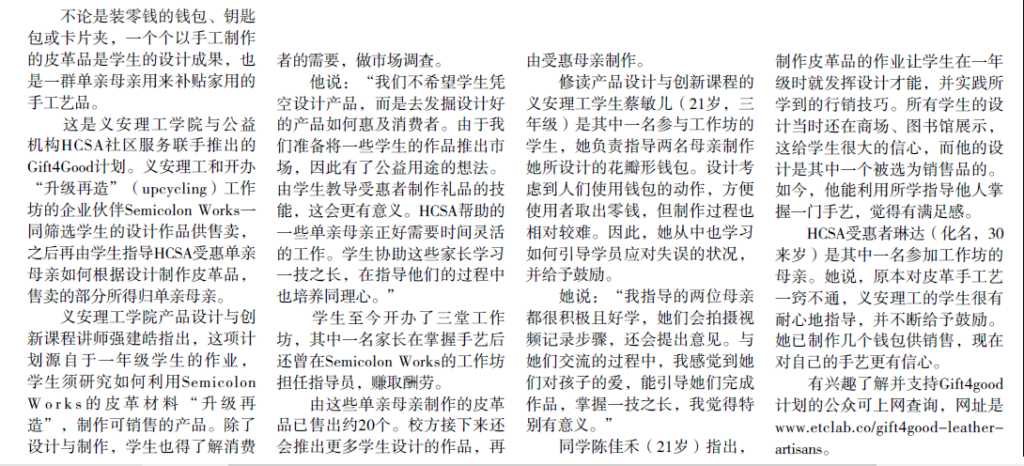 Translation of the last two paragraphs:
"HCSA beneficiary Linda (a pseudonym, 30 years old) is one of the mothers who participated in the workshop. She said initially she was unfamiliar with leather crafting, however the students of Ngee Ann Polytechnic were very patient in guiding her and constantly encouraged her. She has since made several coin pouches for sale and now has more confidence in her craft."
We are so proud of our member; and delighted for this opportunity to be featured in Lianhe Zaobao 联合早报!
Show your support by purchasing these specially handcrafted products at www.etclab.co/gift4good-edition.
(Source: https://www.zaobao.com.sg/news/singapore/story20190403-945369?fbclid=IwAR0Ki3g0JdnBXmIMYewKfwo5WnfhhqoS4jLwrklGCvMqWZX7TX3hXxowRuI)