Watch the video by Singapore Kindness Movement now.
Overwhelming offers of help from Singaporeans for five-year-old boy born in jail
It was something that they'd never imagined, much less expected – the overwhelming outpouring of public support for both Suhaini Md Ali and Janice Yap after The Pride shared their story in a video on the Singapore Kindness Movement's Facebook page.
The video has garnered over 20,000 shares and more than 1.4 million views.
Suhaini, 39, is a single mother of two who also looks after her nephew, Haiqel. The four live in a rental flat. The family is not financially well off and Haiqel, whose mother is in prison, has never had a birthday party before.
But this year, Haiqel was able to do so, thanks to 41-year-old Yap.
Touched by the family's story after she connected with Suhaini, Yap and a group of friends threw Haiqel his first birthday party – the 10th they have sponsored since last year.
A barrage of messages showing support and showering praises on both Suhaini and Yap were left in the comments section.
Facebook user Mari Anne wrote: "Two amazing ladies. Thumbs up to you both for doing such a beautiful birthday party for this boy. And to his aunty, you are awesome to take things on."
Another, Glenn See Toh, added: "Thank you for being a mother and someone that love and care for him even through all the daily struggles that (came) your way. So happy to see Haiqel enjoying himself on his special day. Made possible by a kind and a beautiful-hearted person in Janice Yap."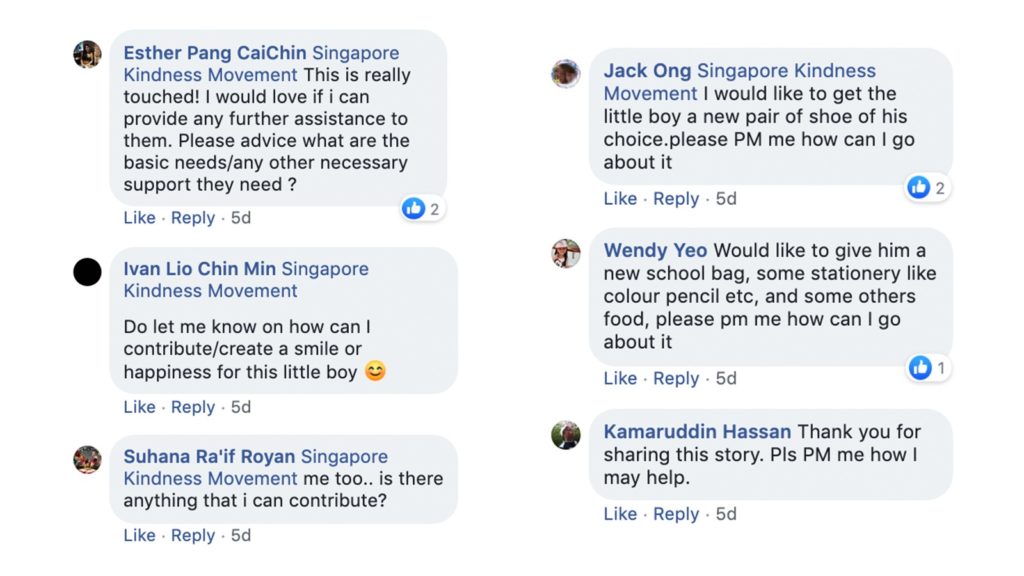 There were also many offers of help for either party.
"I am speechless, not just surprised," Yap tells The Pride. "When I started (doing birthday celebrations) last year, I never imagined it to get so much attention. It never came across my mind.
"I'm not even a professional, I'm just an ordinary person. It was something that I did out of my own goodwill. I never thought people would even think that it's a big gesture."
The real estate agent added that she has received over 100 messages from the public. Some of them came from single mothers who sent messages of encouragement, while there were also others who offered their time to help out with what she does for underprivileged children.
"It's very heartwarming. The past few days, every time I read the messages, I want to cry."
Meanwhile, Suhaini has received about 30 emails from the public. Some have offered to purchase groceries for her family and toys for Haiqel, but she has politely turned them down. That is because they get monthly food rations and pre-loved toys from the Catholic Church of St. Bernadette, she explained, while she can't fit too many groceries into her fridge at home.
Still, Suhaini said that she was "very touched".
"I was surprised and never expected this kind of support and encouragement from Singaporeans. And it wasn't just Singaporeans – there were non-locals too," she said.
"It kind of motivated me. And I feel loved. That's the most important thing."
The support she received has also got Yap to reconsider her plans of canning her initiative after this year.
Initially, she had concerns over the lack of time she has between juggling her work, taking care of her daughter and planning the birthday parties. It was also getting hard for some of her friends to commit to the birthday parties as those are usually held at a childcare centre, which means it would be during office hours on a working day.
"It is difficult for my friends to come out of work just to do this. Physically, I have to run all the errands and take care of my daughter. I'm just worried, what if there's a time I cannot deliver? I don't want to disappoint them," she explained.
But the situation has changed with so many volunteering to help, said Yap.
"Now, there is an outpouring of volunteers. A lot of people are very willing to do this."
Like the Good Samaritan she is though, Yap, who is still in constant contact with Suhaini, feels that the focus of all this public attention should be on the family instead of her.
"I don't really need all this limelight. I feel that Su and her family are the ones who actually need help. I really hope the focus is on her and not on me… I don't feel I've done anything amazing," she said.
"What's more important is that they can get the help that they really need."
(Source: The Pride; The Pride is a Singapore-based publication that aims to highlight good news and inspirational stories, and discuss social issues and current affairs that are important to the local community.)